Countdown: Australia's Top Ten Sci-Fi Films 2017 click here
Gary guest speaker at Duffo's biography book launch 'This Will Explain Everything' launch at The Basement in Sydney.


Jay Katz was the MC and Duffo with his band performed two sets which included a sultry version of Yesterday .

Gary spoke on how Duffo was cast and how Duffo had emailed him chapter of the book to review while he was writing it.Then after he got a publishing deal with Melbourne Books he rang Gary in a panic because his computer had crashed and he's lost all the chapters of his book and hoped Gary still had them. As it turned out he'd kept them so all was not lost.


Gary also produced and edited a seven minute video presented by Enki of the Anunnaki from planet Nibiru on Jeff's incredible career.Bob King took the photo of Gary.
_______________________________________________________________________________________________

Duffo alias Dr. Secta bares all in his frank no-holds-barred memoir.

'Sinatra, Presley, Jagger, Popeye and now Duffo.' — Andy Warhol 1980

In his tell-all memoir, dedicated to Bowie, Duffo shares his tales of life, love and rock'n'roll, in what is a rollicking, entertaining read. From his childhood desire to wear a dress, to performing before violent London punk crowds, to being banned and arrested, and even his journey into the depths of despair, Duffo recalls all with flair and style.



SBS ( Special Broadcasting Services ) have profiled Sons of Steel on their Movie website
here 's the link , see the interview with movie show hosts David Stratton and Margret Pomeranz
James Vernon is executive producer and his daughter Kristy Vernon producer of 'Gabriel.
See…..

http://en.wikipedia.org/wiki/Gabriel_%28film%29

http://www.imdb.com/title/tt0857376/

Since producing 'Sons of Steel' James has been executive producer of three feature films; 'Shattered Image' 1998 starring William Baldwin and Anne Parillaud.

'Gabriel' 2007 starring Andy Whitfield
'Prime Mover' 2009 starring William McInnes

and co-producer and producer of three feature films;
'Heaven Tonight' 1990 starring John Waters and Rebecca Gilling
'On the Dead Side' 1995 starring David Baldwin and Richard Carter
'Flynn' 1997 starring Guy Pierce and Cladia Karvan.

http://www.imdb.com/name/nm0894683/

Gary produces the mascot for the New South Wales Waratah's Super Rugby .... 'Tahman'
After meeting then coach of the NSW Waratahs, Ewen McKenzie socially at the Crown Hotel, Coogee Bay in 2005 while Gary was visiting Sydney on business, they struck up a friendship. Later Gary had the idea of creating a much needed mascot for the Waratah's, so he and graphic artist Glenn Ford (the Australian Phantom comics artist), who Gary has a long professional friendship came up with the design of 'Tahman.'
Gary took the artwork from the Philippines to Sydney in 2006 but the then marketing management of the Waratah's did think they wanted to go with a super hero character as a mascot. A little later that year a new marketing director was appointed in Kim Aust-Howlett, and Ewen suggested for Gary to propose the artwork again.
Now 'Tahman' is the official mascot of the NSW Waratahs and every season Gary and his wife Mai produce a comic of Tahman's adventures that is featured in the Official Program at each of the Waratah's home games.
http://www.waratahs.com.au
_______________________________________________________________________________________________
Gary edits 'Sons of Steel' into the directors cut
A few changes were made to the original release version of 'Sons of Steel.' Gary added some new off camera dialogue, subtitles to help continuity of the story, more music to the score and lots more sound effects that were missing from the original release. He also cut some footage out to tighten the film up. He said, 'I really wanted to get hold of the very first directors cut of the film which was 120 minutes long but it had tragically been destroyed when James Vernon's garage was flooded in the early 1990's. Once we had Image as a foreign rights distributor in 1990, they wanted shorten the film. In the late 80's early 90's cinemas required films to be 95 minutes so that they could fit more screenings into the day and thus make more money. Also, there were a number of drug references in the film that image wanted cut so they could get a PG rating for the film. I fought against the cuts but lost. Now the market has matured and the scenes cut, if added back to the film, would strengthen the subplot that suffered badly from the cuts, in my opinion. For instance when we first meet Honor and Karzoff, we don't know that both of them had just done a line of cocaine the length of the table they are sitting at. That is why they act so odd when they interview Hope, she actually calls them 'cokeheads' and it is the reason Alice accuses them of being 'off their faces.' I shot the scene with a vacuum cleaner hose up Honor's sleeve allowing her to super snort the humungous line. The original scene opened with her sucking up this huge line of toot. One day I hope to find the negative and perhaps salvage some of the great footage that had been brutally cut from the first cut thus rendering the film flawed in my mind.'
_______________________________________________________________________________________________
Jeff Duff is writing an autobiography .
Gary has read eight chapter and has expressed interest in making the film version. Gary claims there are times in Duffo's life where he has been an exaggeration of the character he played in Sons, Secta.visit Duffo http://jeffduff.com.
_______________________________________________________________________________________________
John Vallins has a new CD entitled; 'Let's Fly Away'
When Gary's composing partner of 30 years, John Vallins emailed him to say he was thinking of recording two of their old co-compositions to add to ten other instrumental tracks he'd recorded for his new album, Gary was thrilled. As it turned out John had already recorded one of their old songs entitled 'Let's Fly Away', which wound up being the title track of the CD.
Mai got to work and designed the album cover. The album is now it's being shopped to distribution companies around the world.
It's not 'regal rock' like their co-compositions in Sons of Steel, but by contrast it's seriously laid back bossa nova, the sort of music you listen to when you just want to chill with your lover and a glass of fine red wine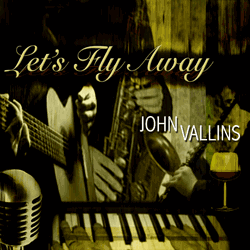 _______________________________________________________________________________________________
'Sons of Steel' is a cult classic in Hungary. AZ ACEL FIAI
The Sons of Steel website get emails from all over the world. The film has fans all over the place. But it was wild to discover that when Sons was sold to Hungary in 1990 for video release, it was dubbed in Hungarian. As it turned out it was the very last foreign film ever to be dubbed into the native language there; the government changed and the dubbing studio closed down. So, aside from the success of the film there it also gained notoriety from be the last of it's kind and became a cult classic.
So, when Budapest film critic Balazs wrote to Gary to tell the story, they pretty quickly came up with the idea of supplying the fans with in Hungary a DVD of the Hungarian dubbed version. Balazs offered to put the word out to try and get a copy of the 1990 VHS release so he could strip off the soundtrack, send it to Gary to treat and attach to the new digital version. It all worked, Balazs posted an MP3 of the soundtrack on a website which Gary got his brother Rod to download, then Rod worked on it with 'Logic Software' on his G5 Mac and came up with a clean, stereo mix, got it to Gary who then imported it into 'Final Cut Pro' film editing software… cut the dialogue up to synchronize with the images, authored a new DVD and sent it back to Balazs in Budapest. He will now shop it to local distributors :)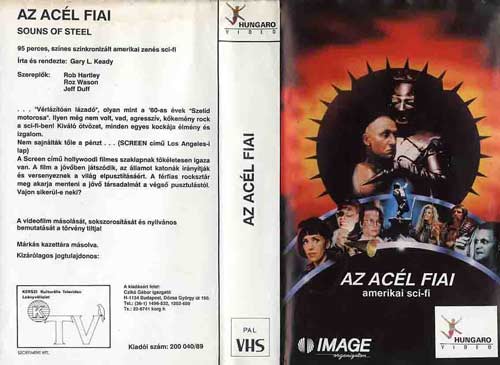 _______________________________________________________________________________________________
'Sons of Steel' hits the road to tour film clubs in Australia with Q & A from Gary Keady, Jeff Duff .
'Sons of Steel' hits the road to tour film clubs in Australia with Q & A from Gary Keady, Jeff Duff and Rod Keady.
Though 'Sons' didn't fair too well commercially in Australia over the years, seems now there is plenty of interest in the film.

Jeff Duff had met Jaimie of Meson Theatre in Sydney. Jaimie asked Jeff if he could get a DVD of the film to screen to his film club members and if Gary and Duffo would come along for a Q & A at that screening. Well, Gary loved the idea, then courtesy of Jaimie, the concept has blossomed from there. Now dates are being taken by Gary to screen the film and do a talk for other film clubs, including a gig at the 'Revelation Film Festival' proposed for next July in Perth. Seeing Gary is now in touch with Rob Hartley (Black Alice) after 20 years, he's hoping Rob will agree to join him for that screening. Perth is after all Rob's home town.

E-mail us at :info@sonsofsteel.com.au

---